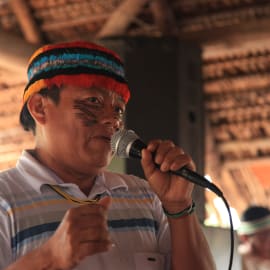 Amazon Watch - Single Donation
Since 1996, Amazon Watch has protected the rainforest and advanced the rights of indigenous peoples in the Amazon Basin. They partner with indigenous and environmental organizations in campaigns for human rights, corporate accountability, and the preservation of the Amazon's ecological systems. Amazon Watch's work is focused on three main priorities: stop Amazon destruction, advance indigenous solutions and support climate justice. They resist the destruction of the Amazon by challenging disastrous development projects and natural resource extraction and by promoting indigenous rights. The Amazon is the world's largest terrestrial carbon sink and plays a critical role in regulating the global climate. Yet this global treasure is at great risk – already more than 20% has been deforested, and new fossil fuel extraction, mining, large-scale hydroelectric dams, and highways cause even greater deforestation and run roughshod over indigenous people's rights and territories. Amazon Watch protects millions of acres of rainforest every year by partnering with indigenous peoples – the best stewards of the forest – to directly challenge the corporate and government powers that threaten the Amazon and our climate.
Requirements
Earn 200 Points for making a one time $20 donation directly to Amazon Watch by clicking the link below. You must donate a minimum of $20 to qualify. *Please note your points will be awarded in 10-15 business days.