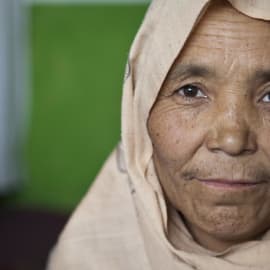 Women for Women - Monthly Donation
In order to make lasting change, women need the skills and resources to build self-confidence, understand their rights, earn an income, and gain the respect of their family and community. Women for Women International (WfWI) is a nonprofit humanitarian organization that provides practical and moral support to women survivors of war. WfWI helps such women rebuild their lives after war's devastation through a year-long tiered program that begins with direct financial aid and emotional counseling and includes life skills (e.g., literacy, numeracy) training if necessary, rights awareness education, health education, job skills training and small business development. The organization was co-founded in 1993 by Zainab Salbi, an Iraqi American who is herself a survivor of the Iran–Iraq War and Salbi's then-husband Amjad Atallah. From 2012 to 2014, WfWI was led by Afshan Khan, a long-time former executive with UNICEF who became WfWI's first new CEO since founder Zainab Salbi stepped down to devote more time to her writing and lecturing.
Requirements
Earn 400 Points for making a one time $15 donation directly to Women for Women by clicking the link below. You must donate a minimum of $15 a month to qualify. *Please note your points will be awarded in 10-15 business days.