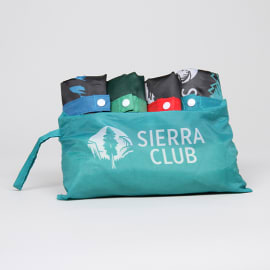 Sierra Club - Exclusive Offer
The Earth is our only home. And the Sierra Club is dedicated to exploring, enjoying, and protecting it for everyone. Wildlife and wild places need you. Monthly giving is an easy way to make a difference every day. Your gift provides the resources to sustain long-term campaigns that lead to the permanent protection of our most precious resources. The Sierra Club was founded on May 28, 1892, in San Francisco, California, by the Scottish-American preservationist John Muir, who became its first president. The Sierra Club primarily operates in the United States; an affiliated organization, Sierra Club Canada, operates in Canada and deals exclusively with Canadian issues. Traditionally associated with the progressive movement, the club was one of the first large-scale environmental preservation organizations in the world, and currently engages in lobbying politicians to promote environmentalist policies. Recent focuses of the club include promoting sustainable energy, mitigating global warming, and opposing the use of coal. The club is known for its political endorsements, which are often sought after by candidates in local elections; it generally supports liberal and progressive candidates in elections. The Sierra Club is organized on both a national and local level. The club is divided into large chapters representing large geographic areas, some of which have tens of thousands of members. These chapters are divided into regional groups, and special interest sections, committees, and task forces. While much activity is coordinated at a local level, the Club is a unified organization; decisions made at the national level take precedence.
Requirements
Earn a $5 dollar gift card for making a one time $20 donation directly to Sierra Club by clicking the link below. You must donate a minimum of $20 monthly to qualify. *Please note your points will be awarded in 10-15 business days.