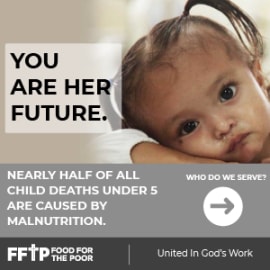 Food For The Poor – Monthly Donation
Food For the Poor provides more than just lifesaving food. With your generous gifts we can secure housing, clean water, healthcare, emergency relief, micro-enterprise projects and education opportunities. By donating to Food For the Poor you are giving those in extreme poverty a chance at a better future. Monthly gifts from donors like you have made a positive impact in 2021 and helped to provide: · 61 Million Lifesaving Meals · 1,473 Safe and Secure Homes Built · 2,192 Tractor-Trailers of Aid Delivered · And So Much More!! Help support those in need with food, medicine, clean water, loving care and hope for a getter future.
Requirements
Donor Points will provide you a $5 dollar gift card for making a $18.24 or more monthly donation directly to Food For The Poor. You must donate a minimum of $18.24 monthly to qualify. *Please note your gift card will be awarded in 20-30 business days.