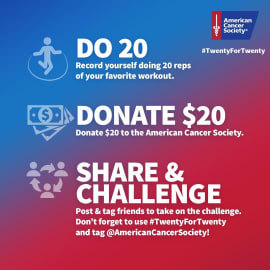 American Cancer Society - Monthly Donation
Record yourself doing 20 reps of your favorite workout. Donate $20 to the American Cancer Society. Share, post, and tag friends to take on the challenge. Don't forget to use #TwentyforTwenty and tag @AmericanCancerSociety!
Requirements
Donor Points will provide you a $5 dollar gift card for making a $20 or more monthly donation directly to American Cancer Society by clicking the link below. You must donate a minimum of $20 monthly to qualify. *Please note your gift card will be awarded in 20-30 business days.