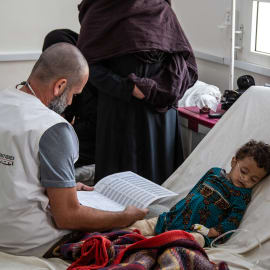 Doctors Without Borders - Monthly Donation
Independent. Impartial. Global First Responders. Doctors Without Borders/Médecins Sans Frontières (MSF) is an independent international medical humanitarian organization that delivers emergency aid to people affected by armed conflict, epidemics, natural and man-made disasters, and exclusion from health care in more than 70 countries. In emergencies and their aftermath, MSF provides essential health care, runs hospitals and clinics, performs surgery, battles epidemics, carries out vaccination campaigns, operates feeding centers for malnourished children, and offers mental health care. When needed, MSF also constructs wells and dispenses clean drinking water, and provides shelter materials. Your donations keep us ready to respond at a moment's notice when disaster strikes, or when conflicts flare. Our independence comes from donors like you, whose monthly support allows us to go where others can't or won't to reach the people who need us the most. Join our field partner monthly giving program and help us save lives. They need us. We need you.
Requirements
Donor Points will provide you a $5 dollar gift card for making a $15 or more monthly donation directly to Doctors Without Borders by clicking the link below. You must donate a minimum of $15 monthly to qualify. *Please note your gift card will be awarded in 20-30 business days.