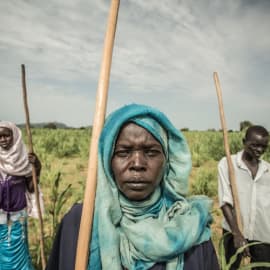 Oxfam America - Monthly Donation
Oxfam is a global organization working to end the injustice of poverty. We help people build better futures for themselves, hold the powerful accountable, and save lives in disasters. Oxfam provides grants and technical support to local organizations around the world. Together with these partners, we support long-term solutions that help poor communities grow nutritious food, access land and clean water, and obtain decent work and fair wages. Local to global, Oxfam uses advocacy to tackle the systems, policies, and practices that keep people trapped in poverty. We take on inequality, climate justice, gender justice, and inequities in the food chain, and we advocate for the basic human rights and dignity of survivors of conflicts and disasters. We challenge governments, multinational companies, international organizations, and other actors to use their vast power and influence to improve the lives of poor and vulnerable people. Oxfam works with local people to lead humanitarian responses that provide immediate relief during conflicts and disasters, and to build resilience against future threats. Right now, you can help families facing hunger and poverty around the world. Provide aid to countries recovering from disaster, support refugees fleeing from violence, and offer hope to communities as they rebuild. Start your monthly donation today.
Requirements
Donor Points will provide you a $5 dollar gift card for making a $20 monthly donation directly to Oxfam America by clicking the link below. You must donate a minimum of $20 monthly to qualify. *Please note your gift card will be awarded in 10-15 business days.